Statesboro FD History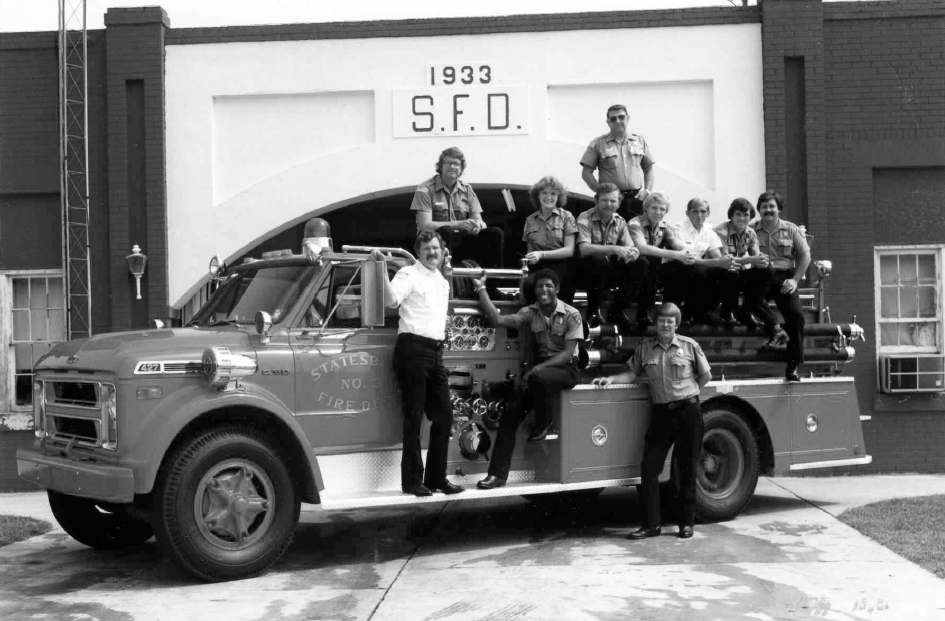 The Statesboro Fire Department was established on September 28th, 1905 after several major fires destroyed a local cotton gin and other important commercial buildings. A local group of concerned citizens began to solicit funds from residents and businesses. With this money, they purchased a hand drawn "Reel and Hose Wagon" and coordinated the first all-volunteer fire department for the community. W.D. Davis became the first Fire Chief to head the new department along with 12 other founding members.
On January 17, 1912, it was announced that the City Council had arranged to equip the city Fire Department with "a modern fire-fighting outfit to include a hook and ladder truck, another hose reel and additional hose." The new hook and ladder truck arrived during the week of January 25, and the personnel of the department were increased from 12 to 24 members. Statesboro Fire Department continued to grow and improve by purchasing new firefighting apparatus and equipment.
The department continued to be an all-volunteer fire department until 1960 when the first full-time firemen were hired. The fire chief position continued to be a volunteer position. Also, during the 1960s, the fire department acquired a second and third fire engine. The fire department covered all of Bulloch County.
In the 1970s, the fire department acquired two more engines bringing the total to five, and in 1974 the first full-time chief was hired bringing the ISO rating 7. The fire department was staffed with 12 full time personnel and still had volunteers, 8 line firefighters who worked 12 hour shifts with 2 firefighters on shift. The Fire District was initiated in 1978 as an agreement between Bulloch County and the City of Statesboro, providing for the city to act as first responder for fire calls in a five-mile radius of Statesboro. This arrangement provides fire service response and lower fire hazard insurance rates for homeowners and businesses in this area. In 1979 the fire department moved from the location on the corner of Courtland and Siebald Streets, which the department had occupied since 1933, to modern station on West Grady Street which was recently remodeled in 2014 and serves as Station 1 Headquarters.
In the 1980s, the department purchased its first aerial firefighting apparatus. A firefighting apparatus equipped with a 50-foot telescoping ladder, a 1,000-gallon fire pump, and 50-foot water tower, bringing the ISO rating down to a 6. The fire department only ran out of one station and two fire apparatus. In 1985, the department added 4 more firefighters to personnel making 3 firefighters per shift and a total of 16 full time personnel. In 1987 the department purchased another 1,000 gallon per minute pumper with a 1,000-gallon water tank. Deputy Fire Chief was moved from shift schedule to 8 hour day schedules that focus on daily operations and prevention. Towards the end of the 80s, The Statesboro Fire Department was awarded with an ISO rating of 4 within the city of Statesboro.
In the 1990s, the department purchased three new engines including a 100-foot telescoping aerial ladder truck with a 100-foot water tower. The remaining two engines purchased in the 1990s were each 1,000-gallon per minute pumpers with 1,000-gallon water tanks.
During the early 2000s, the Statesboro Fire Department continued to grow and purchased firefighting apparatus and state of art technology equipment such as extrication rescue tools and thermal imaging cameras to aid in search and rescue situations. In 2000, Statesboro Fire Department went to a 24 hours shift with 3 shifts staffed by 7 firefighters and began to phase out the volunteer roles by offering part-time positions to those remaining. A second Fire Station was constructed on Fair Road in 2001 to improve response times and coverage area.
2005 saw the first Fire Inspector for the department. Two more Fire Inspectors were hired in 2007 and developed the Prevention Division. With this move, the Statesboro Fire Department was staffed by 27 full-time employees.
The Department did some reorganization in 2010, introducing new management positions and breaking into divisions to improve the overall effectiveness of the organization. New fire apparatus were purchased in 2010, 2012, and 2013, including a 100 ft. aerial platform. In 2011 the fire department began to run four fire apparatus daily. By 2013, The Statesboro Fire Department personnel reached 50 full-time employees.
In 2017, The Statesboro Fire Department Training Division completed construction on a multi-function training center and facilities that can be utilized by the Statesboro Fire Department and other local public safety agencies. 2021 saw the update and remodel of the burn facility, which is now outfitted with an interior standpipe system, suppression system trainer, and an exterior cooling system.
Two new Pierce Enforcer PUC Engines were ordered in August of 2021. On May 9, 2023, the Department officially introduced these vehicles to the public during a push-in ceremony. The engines can pump over 1,500 gallons per minute, feature new lighting equipment, and offer advanced safety features to further protect firefighters while they serve.